Looking for a unique photo spot in Seoul for your Instagram account? Why not visit beauty brand pop-up stores? As the kbeauty market is getting competitive, a lot of brands are opening delicate space for an exclusive experience for customers. Today, we'll introduce three stores where you must visit while you stay in Seoul.
TOP 3. Hince – Atelier Sungsu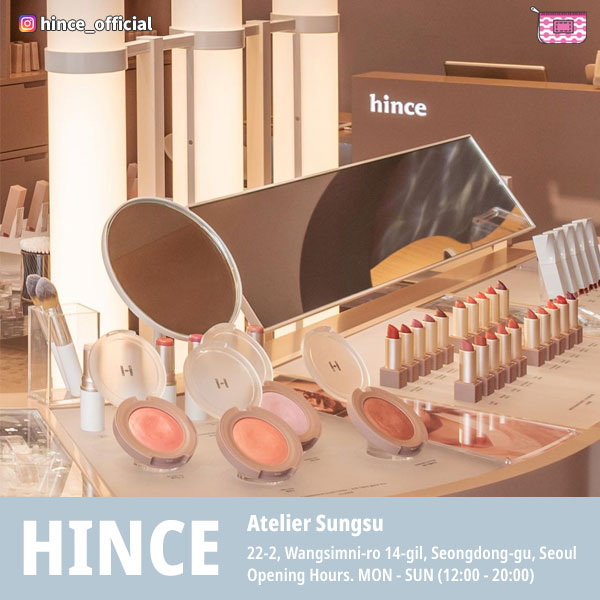 Hince is one of the hottest indie brands at the moment. It is located in Sungsu, also one of the most hipster neighborhood in Seoul at the moment. If you are familiar with Williamsburg, you'll get the vibe there.
Hince is a niche makeup brand under the slogan 'Mood-Narrative.' Their philosophy is the draw a full potential of oneself by dense and rich color products. As followed, their cheeks and lip products are everyone's all-time favorite.
When you visit the Hince store, you'll soon notice a place where you can play with all the colorful lipsticks to create your own color. It's a 'Curation Zone.' At there, you can find out which color is a perfect match just for you.
Also, another spot you should check out is 'Mood Room.' Here is the place where you can get the perfect selfie. A huge mirror on the wall reflects the rainbow glow from the glass object right behind. Those sparkling lights will give you the perfect dewy glow on you.
TOP 2. Tamburins – Flagship Store Sinsa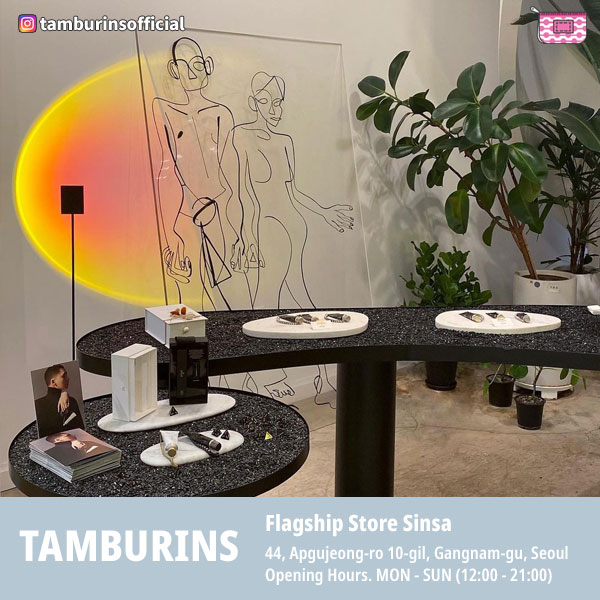 Tamburins is an artistic cosmetic brand. Their main product is hand cream and mood perfume.
Their uniqueness comes from GENTLE MONSTER, a global Korean eyewear brand renowned for artsy displays. Tamburins is the second brand of Gentle Monster launched in 2017.
As mentioned already, they focus on the sensual mood itself. Still don't get what they are saying? Once you visit the Sinsa flagship store, you'll get their attempt at a glance.
The building is consists of two floors. When you enter the store, you might get confused about whether you are visiting an art gallery or what. The place is full of pictures and sculptures. They change the displays very rapidly, so many people visit the store just to see their newly designed displays.
If you are into exquisite displays or wish to get fancy esthetic pictures, make sure to check this place out.
TOP 1. Dr.Jart – Filter Space in Seoul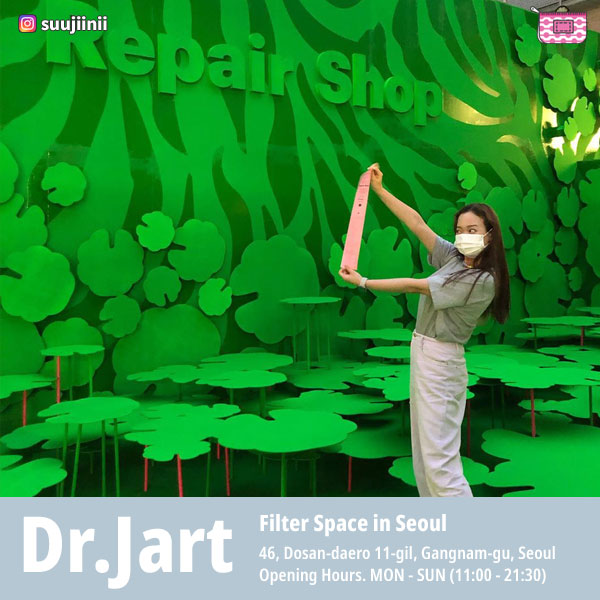 Dr.Jart is one of the famous derma cosmetic brand. It's now widespread across the world. So even some of you might already have heard of their name.
Dr.Jart opened the flagship store in 2016. What's so special about their space is a unique concept. This place is a three-story building, and each area has particular themes. Here, you can experience the three most important factors that are crucial elements for the skin: 'Water,' 'Air' and 'Light.' Each space is designed for experience related activities. Once you finish any activities, they even give out small gifts (it used to be a super cute sticker). So feel free to enjoy!
Not only this, they run a special exhibit every season. This September, their 13th project #RepairsShop has opened. The exhibition's main theme is recycling, which was definitely inspired by its main product, Cicapair Cream. So the outside garden is filled with green tiger leaves. This exhibition will be open till the end of December. So make sure not to miss the chance to check out this event!
---